<Our Role>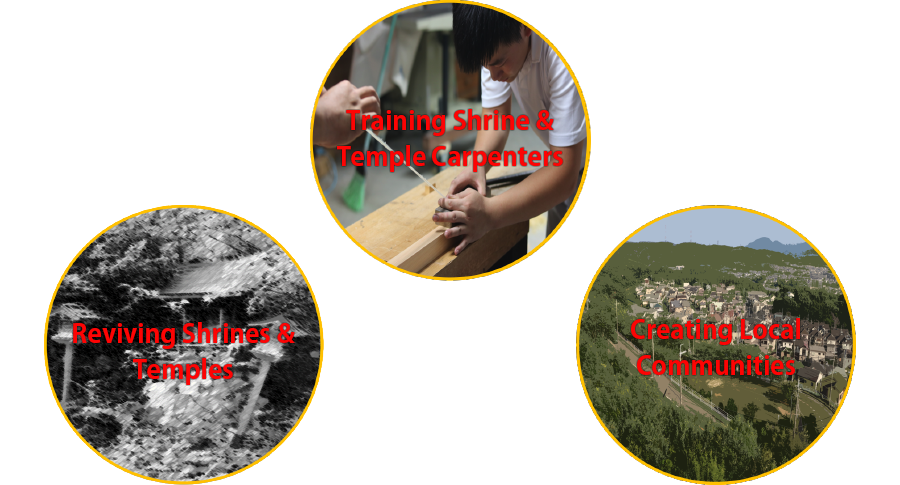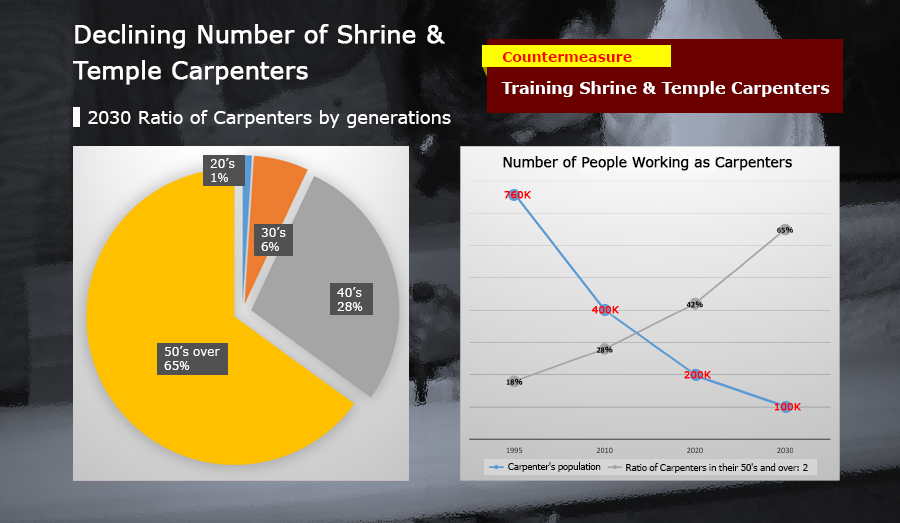 Young people lately tend to avoid an old-style, tough training. The effect of dwindling birthrate and aging population adds to our industry's serious problem of the declining number of young carpenters. According to the census by the Ministry of Internal Affairs and Communications, there used to be 760 thousand carpenters in 1995. By 2010, however, the population decreased to 400 thousand and it is estimated to go down to 200 thousand by the time of Tokyo Olympics in 2020. There are less than 1,000 carpenters specializing in shrines and temples, and they are on the decrease just as carpenters in general are. At our training school, we pass down the techniques and protect the traditional culture through the training of young shrine & temple carpenters.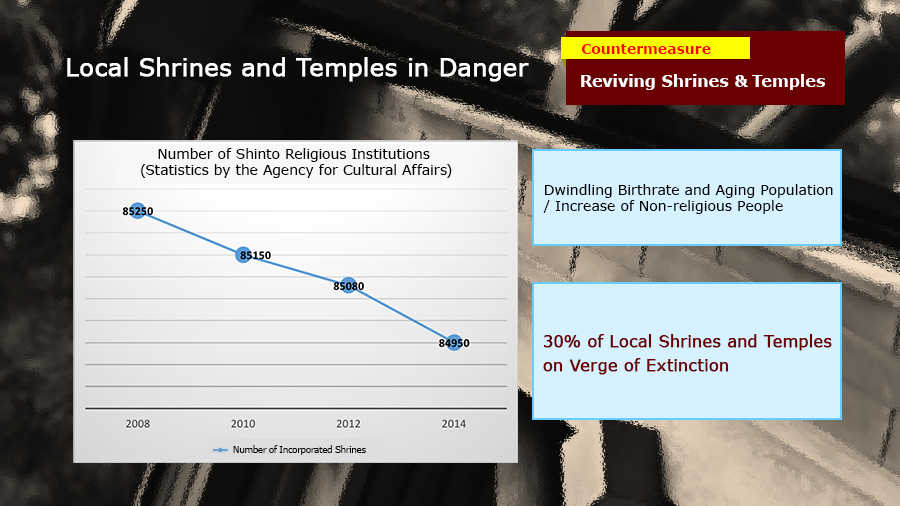 Local shrines and temples are disappearing in recent years due to the effect of dwindling birthrate and aging population as well as depopulation of the rural areas, unable to maintain themselves. Over 30% of local shrines and temples are said to disappear in the near future, posing a serious problem. With young shrine & temple carpenters, we wish to revive shrines and temples on the verge of extinction.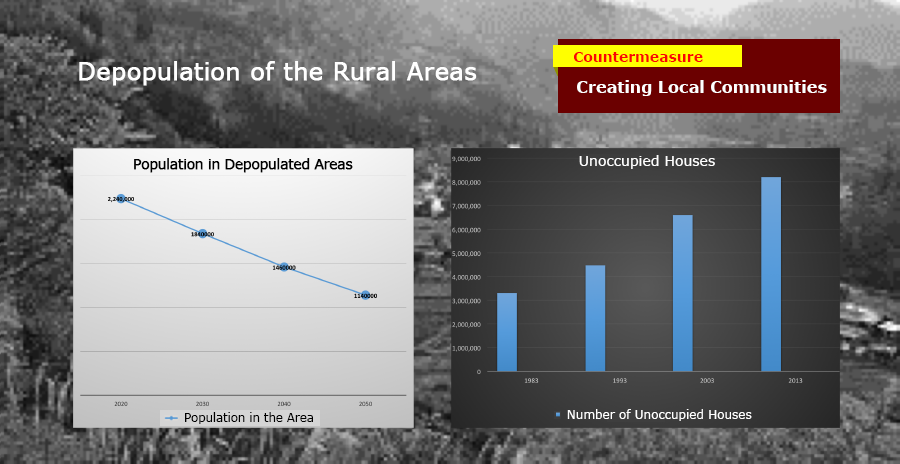 Problems such as depopulation of rural areas, as well as the increasing number of unoccupied houses, have existed for a while. After 2020, when Tokyo Olympics will be held, these issues are expected to worsen with further-decreasing local population and ever-increasing number of unoccupied houses. By training young people in local areas aiming to become shrine & temple carpenters, we will create local specialists' communities. While reviving local shrines and temples, furthermore, we will also build a sustainable environment by having those young people revive the unoccupied houses themselves to live there.
---
Tough apprentice training
Live-in system is efficient, but ... Aspiring youths quit one after another.
It no longer works in this day and age.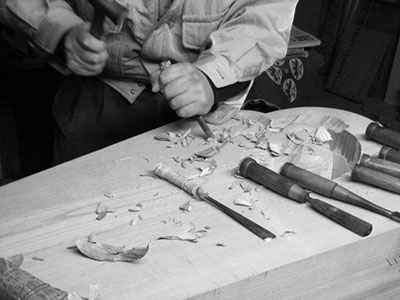 The original apprentice system has been one of the most efficient means of learning the techniques. The training, however, is rough and grueling enough that aspirations of such young apprentices are easily thwarted no matter how motivated they may be. The live-in training will keep those youths under supervision for 24 hours a day, 365 days a year. Their days start at 4 AM and ends at 1 AM, filled with chores without opportunities to actually practice the learned techniques. If there were 100 apprentices, there will be less than 10 of them actually working as shrine & temple carpenters 10 years later. We thus provide a new training method that matches the modern day and age in order not to waste the young people's aspiration before they acquire the techniques.
---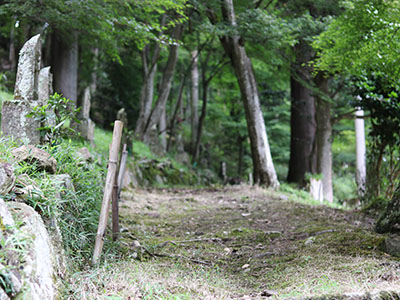 Why Do They Give Up?
1. Stress from losing personal time
2. Never-ending heavy chores and not
enough time to sleep
3. Relationship problems
The modern age is known as the "no-stress society" but people come under a tremendous amount of stress as soon as they become a part of the workforce. The environment surrounding students and that of artisans are completely different. Artisans get up at 4 AM, clean, cook and do chores until 1 AM. Apprentices thus get no free time and they may get scolded for not doing the chores right away. They even struggle to make time to practice the techniques they have learned. They might think it may be the end of the world ... their training environment is indeed that tough and grueling.

They can, however, reap much benefit through such training.

They can acquire a lifestyle, getting up early in the morning everyday and become healthier through three solid meals a day. They also gain muscles necessary for their work as their bodies are built into that of artisans.

Young apprentices also acquire the base of their daily lives as they will be able to create their own meals perfectly. This training is really efficient, but many young people cannot overcome this difficulty. We have thus extracted great aspects as well as absolute necessities of such training and turned it into a new training method that matches the modern times. This is how we train young shrine & temple carpenters.
---
A Shortcut to Becoming a Qualified Artisan: Getting Chores Done!
1. Chores are the basis of techniques
2. Work is the proof of trust
3. Those who master the plan will
  master their work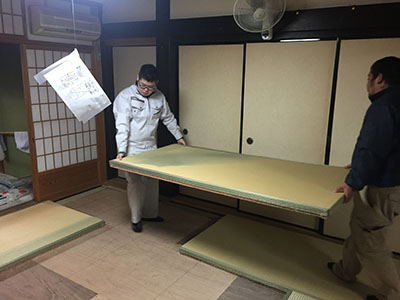 At the beginning of the apprenticeship, apprentices cannot do any work at all. As workforce, they can be considered "below zero." However, doing the chores is one way to contribute, which actually teaches many important things.

Materials shrine & temple carpenters handle are very expensive. One piece of pillar can cost as much as a luxury car. It only takes a moment to mess up, but there goes a luxury car because of such failure. We work under a tremendous amount of pressure. That's exactly the reason why apprentices may not do actual work as they cannot be completely trusted. We thus have a chore called "pre-work." Apprentices are tested at all times to check if they can finish their chores responsibly. If they do a sloppy cleaning job, it will be assumed that they work sloppily, too. Conversely, an apprentice will be very much trusted if she/he cleans neatly and efficiently. No, it's not only about making things cleaner.

Apprentices also cook meals for those who train them. Making meals is a part of "pre-work." Preparing for meals is exactly the same as planning and arranging for their own work. In other words, those who cannot make good plans and arrangements for making meals are not good at planning for work. Those who prepare well for meals and cook great dishes, on the other hand, can of course plan well and do great work.

It has been said since the ancient times that perfection is made of 80% preparation … which means good work is 80% determined, based on whether the preparation was well done or not. They are thus learning about work preparation through meal preparation.

We have extracted great aspects of the apprentice system and turned it into a new training method that matches the modern times. This is how we train young shrine & temple carpenters.
---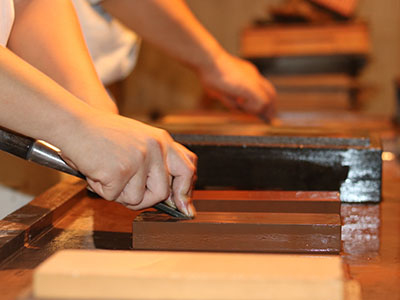 Sharpening is the Base of
the Techniques
The Sharpening Skill is THE Skill of Shrine & Temple Carpenters
It can be said that the value of shrine & temple carpenter's work is determined by the sharpness of their knives. Sharpening knives is that important. Being able to sharpen the blade edges evenly with crystal-clear shine is a prerequisite for doing great work. We shrine & temple carpenters create our own special tools. Being able to sharpen knives evenly is simply necessary to do beautiful work with precise, self-made tools. Practicing knife-sharpening for three years through trial and error can certainly refine our lifelong sensitivity. Neglecting this training will never lead to success as a shrine & temple carpenter. We thus emphasize knife-sharpening in our training.
---
In Conclusion
Training to become a shrine & temple carpenter is tough and grueling. However, needing to overcome such obstacles to become one is now a thing of the past. This industry will be led by shrine & temple carpenters who graduate from our training school, which provides a program that matches the era. Through our thee-year live-in program, Mondays through Fridays each week, participants can learn the basics of good spirit, techniques and physical condition. By mastering the basics one by one, young shrine & temple carpenters will be trained to be skillful enough to work onsite at shrines and temples right after graduation.
---
Job Search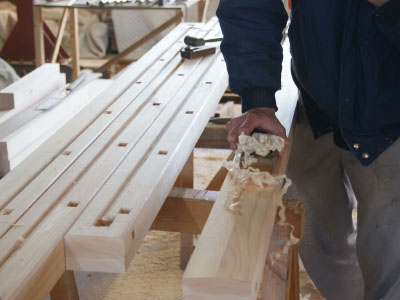 Those planning to graduate from our training course for shrine & temple carpenters will be given priority to go through a job interview.
Job search activity will be supported if an employment other than at the training school is desired.
(Interviewing Tips and Letters of Recommendation)
Facilities
Osaka Plant: 271-2 Shiraki Kanan-cho, Minamikawachi-gun, Osaka 585-0014 JAPAN
Osaka Dormitory: 1403-4-2F Shiraki Kanan-cho, Minamikawachi-gun, Osaka 585-0014 JAPAN
Shanghai School: No.1160 沙积路, Caojing Town, Jinshan District, Shanghai CHINA

New Construction: Kyoto Wazuka, JAPAN (scheduled)